For the best juicer for leafy greens and hard vegetables, you want to choose one that is quiet, does not oxidize your juice, and has enough power to press and masticate the greens and produce fresh juice with very minimal waste. In this light, here are the top 5 juicers we tested for leafy vegetables.
Top 5 Juicers for Leafy Greens
Juicer
Main Features
Our Rating
Price
Omega NC800HDS Juicer Extractor

Slow extraction for more juice.
Automatic vegetable pulp ejection
Real taste from slow juicing

Cuisinart CJE-1000 Die-Cast Juice Extractor

Dishwasher-safe parts
Easy-to-feed 3'' large chutes
Quiet and powerful
Great for hard vegetables

Nama 5800 Masticating Juicer

Highest yield from leafy greens
Very quiet
Does not waste ingredients
Dry pulp, more nutrients

Tribest GSE-5000 Greenstar Elite Juicer

High yield (25% more juice from leafy greens)
Never jams nor clogs.
VERY tough – 12 years warranty
Replaceable accessories.

Breville BJS600XL Masticating Slow Juicer

80 RPM slow and masticating
Does not oxidize juice
Powerful yet very quiet

Lexen GP27 Original Healthy Juicer

Few parts, easy to clean.
Automatic feeding.
Multipurpose for juicing vegetables and anything.
Powerful clamp – versatile.
What you want to look for in the juicer is the type (masticating vs centrifugal), the quality and texture of the juice, oxidation-reduction, speed (slow is better), versatility, and warranty.
That said, here are our reviews of the top 5 juicers for leafy greens and hard vegetables.
1. Omega NC800HDS Juicer Extractor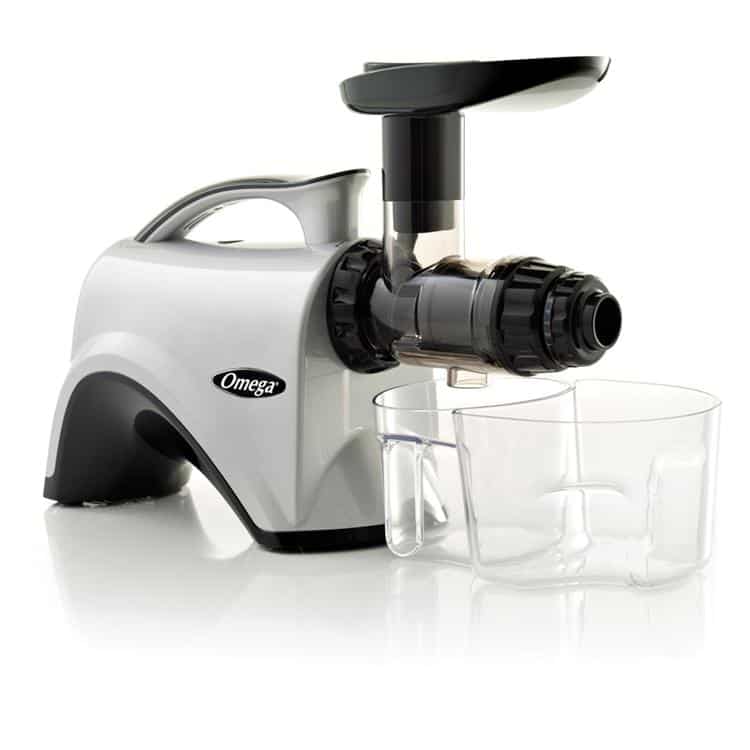 Automatic pulp ejection makes cleaning very easy.
80 RPM slow speed – more juice extraction.
Slow juicing, low heat – reduces juice oxidation.
Variable pressure – 5 settings.
Powerful motor – 150 Watts, 2HP.
Very quiet especially with leafy greens.
Omega is one of the leading household names when it comes to juicers. Whether you want one for wheatgrass, veggies, leafy greens, or something like a complete nutrition system, you'll get a good one on their product lines.
I singled out the Omega NC800HDS to be one of the best juicers for leafy greens and vegetables such as celery, curly kale, frozen cabbage, chard, and even herbs.
With the same amount of leafy greens, I compared and found that the Omega NC800HDS makes approximately 30% more juice than my Breville high-speed juicer, which is a major saving on groceries.
Omega NC800HDS Juicer Specifications
| | |
| --- | --- |
| Juicer type | Masticating (slow) |
| Motor Power | 150 Watts |
| Speed | 80 RPM |
| Weight | 21 lb |
| Dimensions | 6.5" Width × 14.5" Depth × 15.5" Height |
| Package includes | 1 pulp bowl, 1 juice bowl, 1 homogenizing cone, 1 juice cone, 5 nozzles. |
| Warranty | 15 years. |
As is common with every other tool we have in our kitchens, breaking, wear and tear is a common thing. The advantage with this juicer is that it has spare parts. If the funnel or collecting container breaks, you can get this spares from the manufacturer and other vendors such as Amazon.
BEST CENTRIFUGAL JUICER FOR LEAFY GREENS
2. Cuisinart CJE-1000 Die-Cast Juice Extractor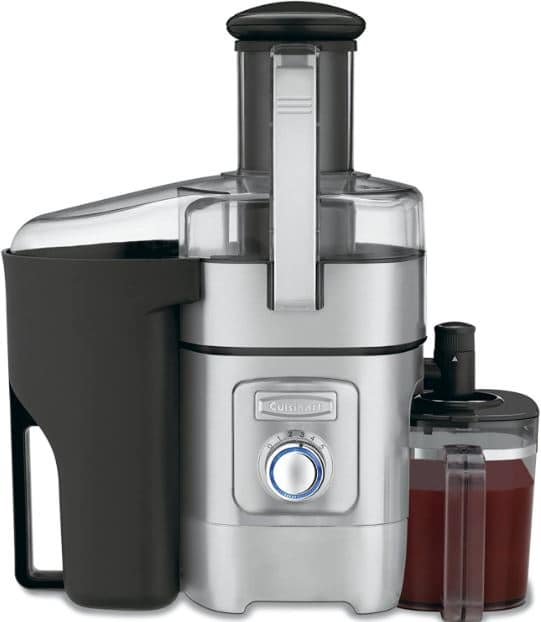 1000 watts – very powerful motor.
5 different juicing speed settings.
3'' large chutes make it easy to feed in leafy greens
Dishwasher-safe parts (best easy-to-clean juicer).
Very durable stainless steel housing.
Quiet juicer for a powerful motor.
Big question: This is a centrifugal juicer. Can I use it for leafy greens?
Yes, you can use this Cuisinart juicer for leafy vegetables and get great results. The trick lies in the speed adjustment. For the best results juicing leafy greens, just set the speed to 3 or 2 for the most extraction from leafy vegetables.
Specifications
| | |
| --- | --- |
| Juicer type | Centrifugal juicer |
| Motor Power | 1000 watts |
| Speed | Speed 1: 5,000-6,200 RPMSpeed 2: 6,000-7,300 RPMSpeed 3: 7,000-8,300 RPMSpeed 4: 8,000-9,500 RPMSpeed 5: 9,000-10,200 RPM |
| Weight | 9 lbs |
| Dimensions | 15.35'' length x 11.8 width x 19.01 height. |
| Package includes | 1-quart juice pitcher, 2-liter pulp container, 1 cleaning brush, recipe book. |
| Warranty | 3 years limited warranty |
This juicer is made of stainless steel, so the look will be very elegant in your kitchen. But that's not the most important thing.
Since we're juicing leafy vegetables such as kale and spinach, this little cold-pressing juicer is really good at extracting the most juice from the leaves, thanks to its 1000-watt powerful motor.
If you have had an experience with those juice extractors that have small feeding tubes, that ends now, thanks to the Cuisinart CJE-1000 Die-Cast Juice Extractor having large 3-inch chutes to make your work a lot easier.
Cleaning it won't be a big deal either since the detachable parts are dishwasher safe. That makes it the best easy-to-clean juicer for leafy vegetables for me.
Cuisineart includes an awesome juicing recipe book as well as a 1-liter juice pitcher as part of the purchase, which I think is a great value add to a price that's already great.
The cons: After trying out the Cuisinart CJE-1000 Die-Cast Centrifugal Juice Extractor, I noticed the spout is a little troublesome. It keeps dripping even after closing it. Not a deal-breaker for me though given the features it packs in totality.
3. Nama Vitality 5800 Cold Press Juicer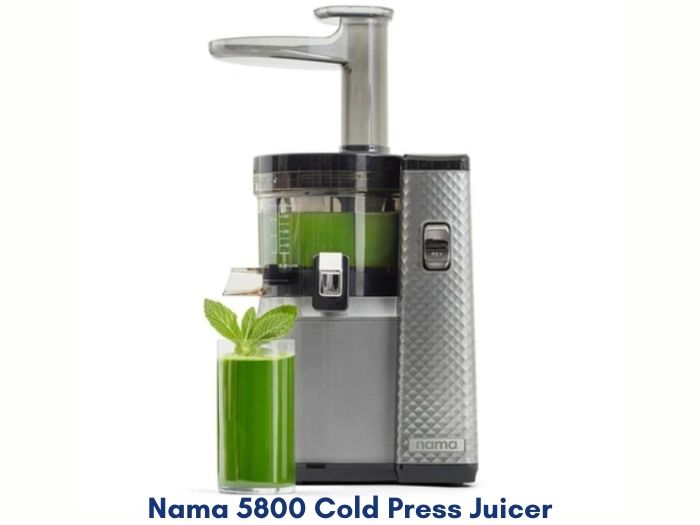 Extracts a whole lot more juice than other juicers
Less messy
The pulp is dry, so you get more value
No pulp in the juice
Juice flavor is a lot better, more real!
Quicker than most juicers.
Very easy to clean (but not as easy as Omega)
When I first received the Nama Vitality 5800 juicer, the first impression after unboxing is that the machine is made for efficiency, high yield, and durability. It is the one juicer so much thought has been put into its design, making it one of the best juicers on the market today.
I actually went on and reached out to a few juicing enthusiasts who use the Nama Wellness juicer. I asked them to give their honest reviews and thoughts about the juicer.
Here are their reviews of the Nama cold press juicer:
---
Tobi Tutt: "My husband bought the Omega juicer based on reviews. The Omega worked alright but was not great. It is messy with lots of pulp in the juice, wetter pulp than expected. Clean up was really the only good thing about the juicer. We used it everyday for over a month.
Last week my husband ordered the Nama and WOW! It is amazing.
The juice was really good, no pulp in the juice at all. The pulp was really dry ( we feed it to our goats and they love it). Lots more juice out of the same amount of produce."
---
Caroline Purdew: "I have been using a Breville (centrifugal) for few months but yesterday I received my Nama juicer (masticating cold press juicer).
I was scurious to see the difference in terms of quantity and quality of juice.
So I did a juicer comparison: the same juice with the same quantity of fruits and veggies and the difference is mind-blowing. I LOVE the Nama, definitely worth the investment.
Juice recipe: 1 apple, 2 pears, 1 small beet, 3 carrots, 1 lime, 1 cm ginger. Here are the results compared: Left is with the Nama Juicer, right is with the Breville juicer."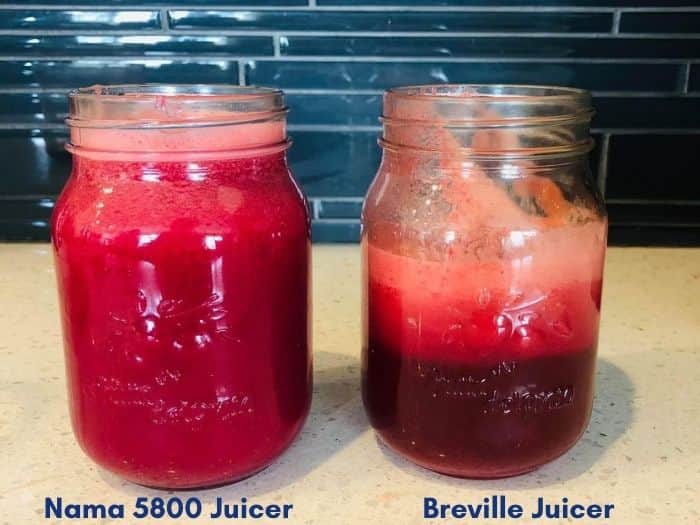 ---
Fink Rose: "Nama juicer gets every single drop out of the fruits and vegetables possible. My Breville always left the content moist and most times wet. The Nama gets all the juice and it's so quiet. I've gotten way more juice out of it. The clean-up on the Nama was time cut in half. It is way easier to clean for me. Way way way easier."
---
Here's a video comparison and review of the Nama juicer:
Clearly, the Nama 5800 juicer is one of the best juicers for leafy greens, hard vegetables, and many types of ingredients. It extracts more juice with more nutrients, is quieter, and faster while wasting almost nothing.
4. Breville BJS600XL Fountain Crush Masticating Slow Juicer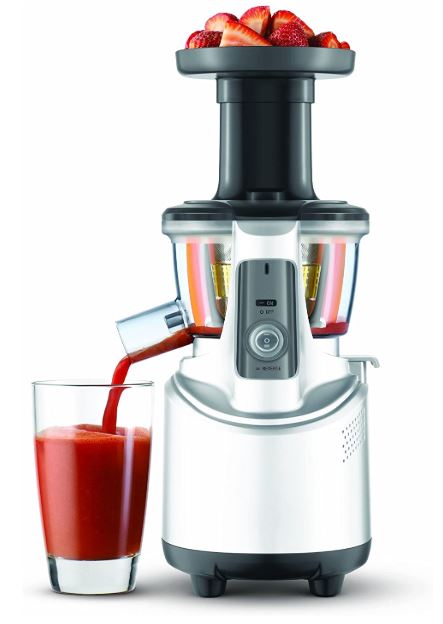 Produces nicely-textured juices.
Slow cold pressing juicer (80 RPM) – more juice + nutrients.
Lots of accessories available.
Low noise level.
Powerful motor – 240 watts.
This juicer is one of the top-rated machines with a direction control mechanism which ensures your greens, fruits, or vegetables can easily be dislodged from the juicing screw.
---
Breville BJS600XL Specifications
| | |
| --- | --- |
| Juicer type | Masticating (slow) |
| Motor Power | 240 watts |
| Speed | 80 RPM |
| Weight | 15.2 lbs |
| Dimensions | 8.5" (Length) x 7.5" (Width) x 16" (Height) |
| Package includes | Food pusher, hopper and lid, juicing screw, filter basket, scraper wiper, pulp container, motor base, juicing jug, juicing bowl. |
| Warranty | 1-year limited warranty. |
The filter basket on this juicer is removable and very easy to clean. Anyone knows cleaning the pulp residue is not the very best of tasks in the morning, so cleaning this one will be easy thanks to the detachable basket.
This juicer is very powerful and will make extracting juice from leafy greens very easy. What's more interesting is how quiet this juicer is. It is too quiet
The extraction speed is slow and does not have any heat transfer. This means that your juice will not get oxidized and start to lose color and taste as with other juicers that are not suitable for leafy greens and vegetables.
This juicer is very quiet for a juicer that's this powerful. This comes down to the 80 RPM specification, which means it is slow. The mechanism produces less noise because it crushes and then squeezes to make more juice than the other centrifugal juicers.
Juice quality: Apart from the low noise level and other great features, I personally know that juicers produce different qualities.
The Breville BJS600XL Fountain Crush Masticating Slow Juicer produces a juice a little fiber, which means you get a thicker, smoother texture. This is what I love the most apart from the great nutrient quality I get from the leafy greens I feed the chutes.
5. Tribest GSE-5000 Greenstar Elite Cold Press Complete Masticating Juicer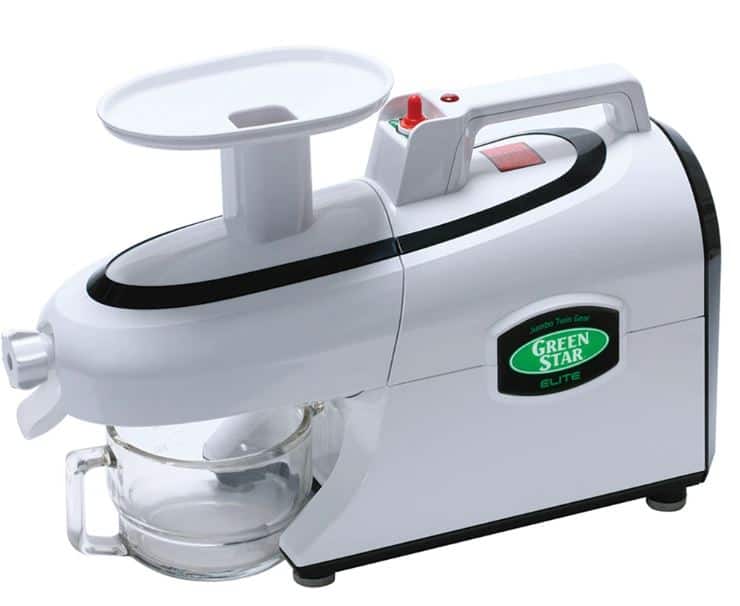 110 RPM slow juicing with no oxidation.
High yield cold press – 25% more juice from leafy greens.
Can make sorbets, nut butters, salsas with accessories.
Highly efficient mastication system.
No jamming and clogging.
Plenty of replaceable accessories.
12 years warranty assures quality and great lifespan.
A juicer that produces 25% more juice from your fruits and vegetables? That's the Greenstar GSE 5000 model of the Tribest brand. This model is able to achieve such efficiency, thanks to the bigger gears that are installed in its design.
| | |
| --- | --- |
| Juicer type | Masticating Juicer (Horizontal Twin Gear) |
| Motor Power | 200 Watts |
| Speed | 10 RPM |
| Weight | 17.4 lbs |
| Dimensions | 18.6″ Width x 6.8″ Length x 12.4″ Height |
| Package includes | Juicing knob, coarse screen, fine screen, cleaning tool with brush and scraper, glass juice pitcher, breadstick knob, homogenizing blank, plastic plunger, stainless steel strainer, breadstick blank, drip tray, wooden plunger, regular gs cleaning brush |
| Warranty | 12 years household use; 3 years commercial use |
The juicer is slow-enough not to heat up your juice and you know what this means – highly reduced oxidation and discoloration of your juice.
Cleaning problems? The juicer comes with cleaning brushes and a scraper tool that makes cleaning the parts and compartments a lot easier than it would be with other juicers.
6. The Original Healthy Juicer (Lexen GP27)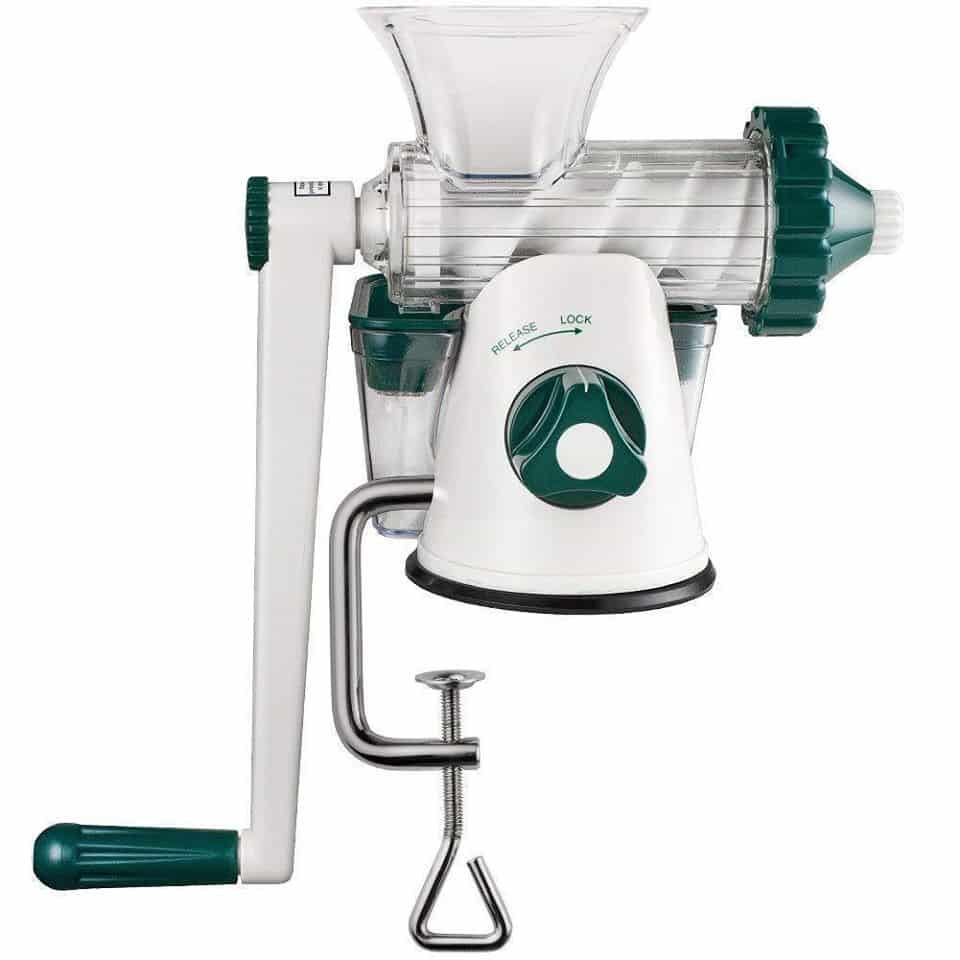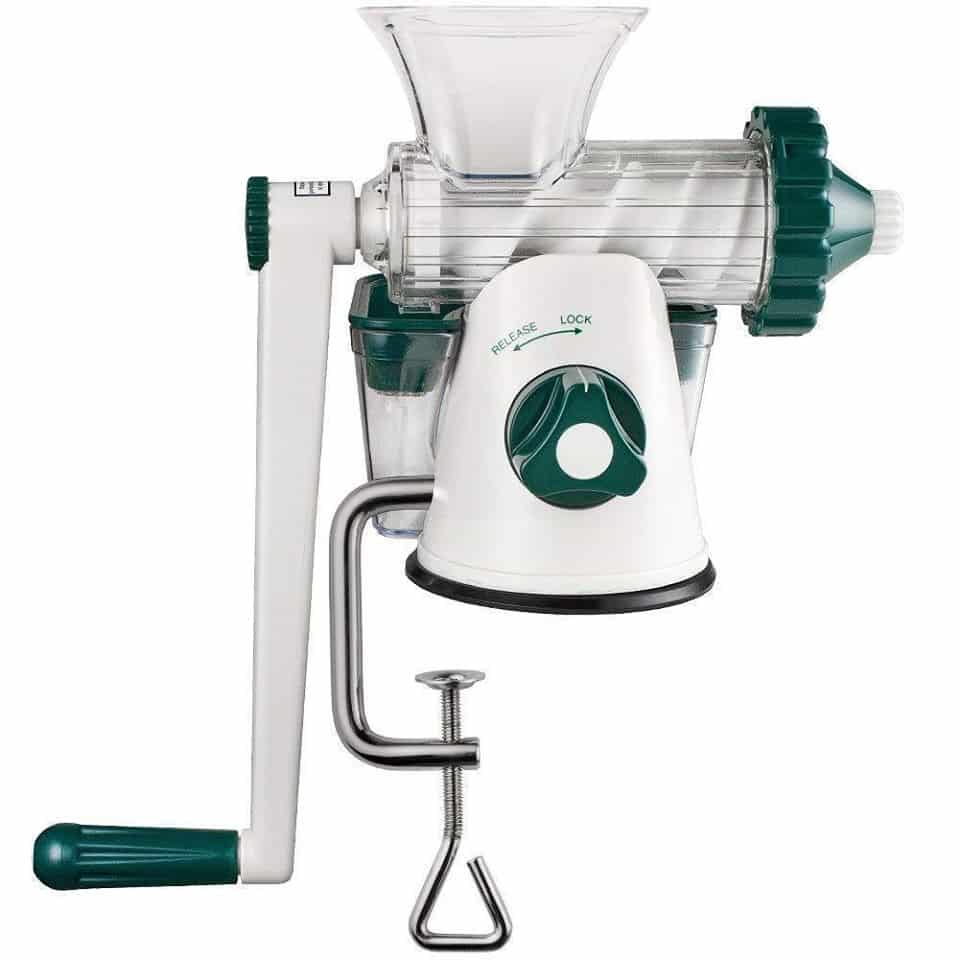 Very few parts (3) make it easy to clean.
Multipurpose function – leafy greens, solids, fruits etc.
Powerful suction base for firm manual rotation.
Great auger design with automatic feeding.
Can attach anywhere with its reinforced, stainless steel table clamp.
This is by far the simplest, most useful multipurpose juicers I've ever used. It does great masticating just about any vegetable and fruits in the kitchen including lettuce, parsley, celery, kale, spinach, chard, collard greens, wheatgrass, and many more leafy greens.
Unlike other juicers on this list, the The Original Healthy Lexen GP27 manual juicer is great for leafy greens and seems to be the only one that comes with a 60-day trial.
You will have a whole two months trying it, and if you don't like it, you return it. What I don't like about it is the manual process. It might not be the very best in this century where everything is automated.
| | |
| --- | --- |
| Juicer type | Cold press (manual) – manual |
| Weight | 2.4 lbs |
| Dimensions | 14 x 21 x 19 cm |
| Warranty | 1 year warranty (60 day free trial) |
Centrifugal vs Masticating Juicer for Leafy Greens?
There are various types of juicers on the market. When shopping for one to use for leafy greens, you will be faced with a choice between a centrifugal and a masticating or cold-press juicer.
Which one should you go for? Which one is more suitable for leafy green vegetables?
A masticating juicer is the best if you want to get the most nutrients out of your vegetables. It contains an auger that presses and crushes the vegetables and fruits that are fed through the chute. The crushed greens are squeezed to separate the juice from the pulp.
You will have your fresh juice in a separate container while the pulp is separated though the sieving process.
A centrifugal juicer, on the other hand, has a sharp blade in its chamber. This blade spins at a high speed to shred the leafy vegetables and fruits. The spinning effect separates the juice from the pulp. This process works best for hard fruits and vegetables such as apples and carrots.
My choice: Of the two, the best juicer for leafy vegetables is a cold press (masticating) juicer. It will extract the most juice out of the greens and give you the best value in terms of nutrient extraction.
Choosing Guide: What Features are Important?
Just about any juicer will do the job to some level of satisfaction, but what you need is to make sure you get the most out of every single one of your bucks.
Juicers are made differently. Speed varies, quality is different, and pricing is also not the same. However, apart from the highlights and the pros and cons I have shown on each of the top brands above, the following are the criteria I consider important when choosing the best juicer for leafy vegetables.
Ease of cleaning
I use my juicer almost every morning and that means I have to clean it every single time I make some fresh juice from leafy vegetables.
The problem is that some juicers can be very difficult to clean especially if you let the pulp stay for long and get glued to the walls.
Since cleaning can be a daunting task, you might want to consider the following ideas when shopping for the best juicer for leafy greens:
Juicers with cleaning accessories such as brushes make the cleaning job a lot easier.
Juicers that go into the dishwasher will make your work a lot easier when it comes to cleaning.
Great juicers for leafy greens would be those with less moving parts. You can disassemble the parts and clean them easily. A blade that you can remove by hand, clean, and replace would be the most ideal.
Juicers that are only hand-washable mean a lot more work goes into making them clean. You'll always have to clean them immediately after juicing if you want to have an easy cleaning experience.
Always check the specification to see if the parts of your favorite juicer are removable and can be placed in a dish washer for cleaning. This is what saves me a lot of cleaning time every morning.
Versatility
There are citrus juicers and juicers for celery only. While is is a great idea to buy a good juicer just for leafy greens, you might want to shop and see if you can find something more versatile to give you various utilities.
When it comes down to choosing between a centrifugal vs masticating juicer, the latter is more versatile and will give you a lot more functions than the other.
For example, cold press (masticating) juicers are great not only for leafy greens but you can also use them to process butter, ice cream, milk and a lot more things.
The same cannot be said for centrifugal juicers. In fact, it is very difficult to use a centrifugal juicer to process leafy vegetables such as spinach and kale because the machines pulverize the fruit and vegetables against a fast-spinning cutting blade.
This process may not yield the best results.
Noise level
Most juicers start to become noisy or noisier as they get old and wear out. It is normal because the bearings will have started to wear out and not all parts will be tightly fitting as when the juicer was new.
As with new juicers, not all are quiet. Some juicers produce more noise than others, making this a very important factor to look at when buying a good juicer for vegetables and for your kitchen.
Just like with good food dehydrators, noise levels in juicers are indicated on the label or packaging as decibels (dB).
Masticating juicers have a lower noise level compared to centrifugal ones.
Quiet juicers are typically slower at the job compared to the faster ones.
You want to choose an efficient juicer with the lowest noise level decibels. Efficiency is key here since most quiet juicers are slower because of lesser power of the mortar.
Keep in mind you might not get a completely quiet juicer. There's an acceptable level of noise you will have to consider.
Speed and power
I'd always choose a faster juicer for my kitchen no matter what. When you accept a certain level of noise, you will get a faster and more powerful juicer.
Here's what I'd advise you to look for when choosing powerful juicers for your vegetables:
Masticating juicers are much slower and are less powerful.
Centrifugal juicers are great for speed.
With a good, powerful centrifugal juicer, you can get maximum juice out of an apple within just a few seconds (about 30 seconds).
I found that the amount of juice you'd get with a centrifugal juicer is a lot less compared to that from a centrifugal one with the same amount of veggies.
The best juicer for leafy vegetables and other uses in the kitchen are those with variable speed settings. You can easily adjust the power and speed to get the most juice out of your fruits and vegetables.
Output or yield
Some of us have two juicers in our kitchens and the reason for that is the yield. What kind of juice are you planning to make often?
In this light, you want to choose a juicer with the highest yield of the raw material you'll be feeding it. For example, masticating juicers are the best for leafy greens and all types of vegetables because they just produce high amounts of dry pulp.
This translates into high economies since there's very little wastage.
Cold press juicers are generally more expensive but provide value for money in the long run.
A cold-pressed juicer extracts more juice per leafy vegetable and fruit.
In terms of output, I would highly recommend choosing a masticating juicer for leafy vegetables as opposed to a centrifugal one. The latter is great if you are looking to make juice out of hard veges and fruits.
Feeding chutes
Before juicing vegetables and leafy greens, you will need to prepare the ingredients carefully to make sure they are clean and ready to be fed into the juicer for extraction.
The one thing I usually find frustrating is feeding a fast juicer through a small chute. Leafy greens, in most cases, are wide and can be cumbersome to feed into the juicer for pulp extraction.
Therefore, the best juicer for leafy greens should have a wide chute or feeding mouth to make it easy to insert celery, kales, spinach, or whichever greens you want to make juice out of.
References