Drying mushroom is a long term storage method that not only retains their quality but also intensifies their flavor quite well. You can easily dry mushrooms using heat or air. However, there are things you need to know before using either of the methods.
First, when using heat methods, low heat of not more than 150°F is recommended. This is because too much heat can easily destroy active compounds in mushrooms.
Second, if you choose to air dry your mushroom, ensure that the air is dry as Humid air can slow down the process or you can end up with under dried mushroom. However, in such a case you can easily finish the process in an oven or in the dehydrator.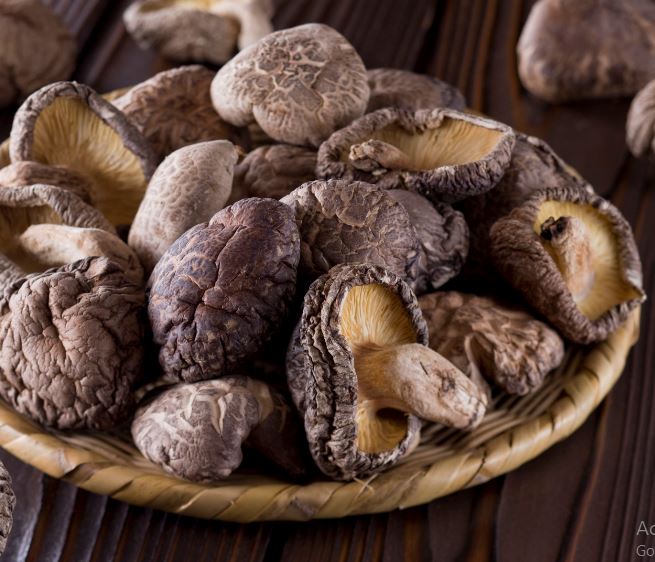 Mushroom are best air dried. Although the process is time consuming, it retains the quality better. However you can also dry mushroom in the oven or dehydrator using low heat to fasten the process. Once they are completely dry store them in an air tight container away from light, heat and moisture to last longer.
Ways to dry mushroom
Clean mushroom first before drying to remove any dirt or insects present. However, ensure to use a damp cloth or simply brush off any dirt with a soft brush. This is because rinsing mushroom with water introduces excess moisture to it hence prolonging the drying process regardless of the method you choose.
Slice them thinly to speed up the process as air or heat (depending on the method you are using)will penetrate easily that way then follow the methods below to dry up your mushroom.
Air drying
Air drying is the easiest yet the cheapest way to dry mushroom since no gas nor electricity is needed. It maybe time consuming but it retains the flavor way better than any other method. All you need is a sterilized needle, thread and mushroom.
To air dry mushroom:
Use the sterilized needle to pass the thread through the sliced mushroom
Hang them under direct sunlight in a well ventilated area away from birds
In 2-3 days your mushroom will be completely dry and ready for storage. Dry mushroom will break when you try to bend it. If it bends instead, give it more time to dry before you can store it. Store dry mushroom in an air tight container away from sunlight.
In the oven
I find this method much of a hustle as you will need to be there almost through out the process to turn the mushroom as heat is not evenly distributed in the oven. Its however a more rapid method compared to air drying especially when the air is humid.
To dry mushroom in the oven:
Preheat the oven to 150°F
Spread the sliced mushroom on a baking tray in a single layer away from each other
Put them in the oven for 1 hour
Turn the mushroom and blot excess moisture with a paper towel
Put them back in the oven for another hour or until completely dry.
Let the mushroom cool off
Put them in an air tight container.
Drying mushroom in the oven will take a maximum of 2-3 hours depending on the size of the slices.
In the dehydrator
Arrange the slices on the dehydrator tray in a single layer away from each other
Set the dehydrator at 110°F and let them dry for 4-8 hours depending on their thickness
Cool the mushroom completely
Put them in an air tight container
How to store dried mushroom
Before storing mushroom, ensure they are completely dry as under drying can lead to mold growth during storage. Also, if using heat methods its important to cool them off completely before storing to prevent sweating.
Once completely dry, store mushroom in an airtight container to prevent any moisture from getting in and put it in the freezer.In the absence of a freezer store them in your pantry away from moisture, heat, and sunlight. Dried mushroom will retain their quality for over a year if properly stored.
How to rehydrate mushroom
To rehydrate mushroom, soak them in a bowl of hot water or better still use stock so they can absorb the flavor during the process. Your mushroom will be back in shape and ready to be used in the intended recipe in 30 minutes.