Creole mustard is a common condiment used in the Southeastern region of the United States. It combines different bold flavors so that you can get a hint of Spanish, French, African, and German flavors. The creole seasoning gives a spicy and flavorful touch to sandwiches, sauces, dressings, and dips. Several options are available if you prefer a different flavor profile or want a creole mustard substitute.
Creole mustard is an advanced version of regular mustard with a granular consistency. It is spicier and intense with a creamy taste and multiple extra flavors making it a versatile condiment.
What is creole mustard made of?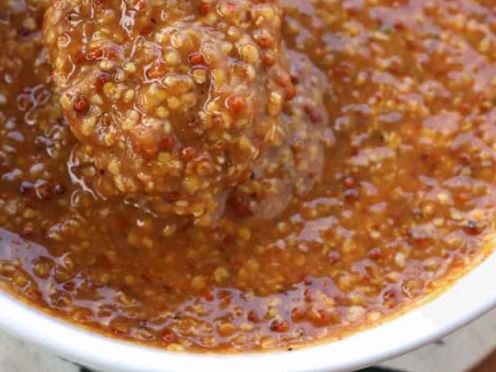 Creole mustard is made of brown mustard seeds marinated in white wine vinegar, horseradish, and creole seasoning(onion powder, garlic powder, paprika, black pepper, turmeric, white pepper, dried oregano, dried basil, dried thyme, and salt). Each ingredient blends well to create a beautiful spicy add creamy mustard and packs a flavor punch.
Creole mustard is hot and acidic with a hint of sweetness. There are endless applications with such a flavor profile. Since it is more commonly used in the Southeastern region of the United States (especially Louisiana), most restaurants and home chefs feature creole mustard on po'boy sandwiches. Moreover, this mustard does well in salad dressings, sauces, and dips.
You can use Creole mustard as a glaze or marinade, you can add in seafood dishes, sandwiches, hotdogs, pasta dishes, and burgers just to mention but a few.
If you like strong flavors, creole mustard will work best to bring a spicy and intense flavor into any meal you wish to use it in.
7 best creole mustard substitutes
Creole mustard is excellent taste-wise, and its versatility makes incorporation easy. But, what do you do when you run out of your favorite sauce unexpectedly? There are mustard sauces that have always been on my top list whenever I need to replace creole mustard for one reason or another.
Here are 7 substitutes for creole mustard:
1. Whole Grain Mustard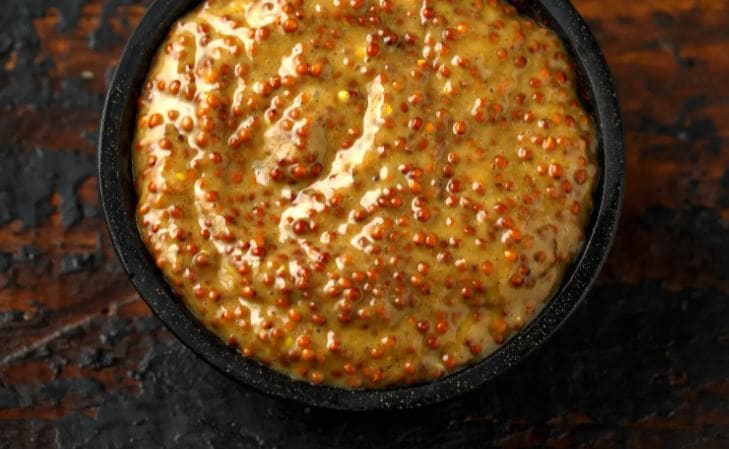 Whole grain mustard is a great substitute for creole mustard due to its grainy texture. It has a thicker consistency, making it spicier and richer than creole mustard.
If you love bolder flavors then this substitute will work perfectly for you as it is a bit spicier than creole mustard. Besides, it pairs well with cheeses, making it a better condiment for cheese sandwiches. The extra grainy nature of whole-grain mustard adds texture to foods, which is an important element of a well-balanced recipe such as;
Vinaigrettes
Dressings
Charcuterie spreads
Cheese plates
Sandwiches
Dips
2. Dijon mustard
While making creole mustard at home, Dijon mustard is commonly used as a baseline ingredient. It has brown mustard seeds as part of its ingredients which gives it a flavor close to that of creole mustard making it a good substitute for creole mustard.
If you prefer a smoother texture and consistency, go for dijon mustard because it is better than creole mustard in making dips and sauces.
It is important to note that dijon mustard tends to be very spicy. The intense flavor might not sit well with most people, therefore, you can start with small portions until you get the portion that works best for you. When incorporated into vinaigrette and mayonnaise mixtures, the spiciness becomes more dilute, making it an excellent alternative to creole mustard.
3. Homemade creole mustard
Store-bought creole mustard is different from the homemade version although you can substitute one for the other depending on your needs. Making creole mustard at home can be advantageous as you can adjust the flavors to suit your taste.
Although it can be time-consuming, experimenting with new ingredients makes your creole mustard better than store-bought mustard.
Note that homemade creole mustard tends to go bad faster once you start using it. If it starts to separate or has an off smell, stop using it.
4. Spicy brown mustard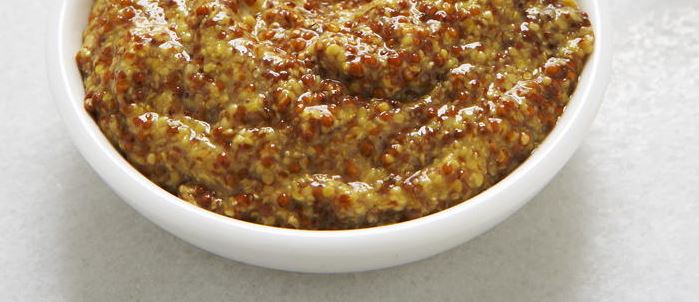 Spicy brown mustard is very similar to creole mustard in terms of texture. They both share ingredients like horseradish which give them a similar flavor although spicy brown mustard tends to be a bit mild.
Spicy brown mustard can work really well as a substitute for creole mustard, especially for those who find creole mustard too spicy.
It also comes in a grainy texture and finely blended texture to suit everyone's preference.
5. Stone-Ground Mustard
Stone-ground mustard uses semi-crushed mustard seeds just like creole mustard, which makes it similar texture-wise. Stone-ground mustard makes a great substitute for creole mustard if used sparingly since it is hotter than creole mustard.
If you prefer our food hot with a flavor of creole mustard then go stone-ground mustard.
6. Hot Mustard
Hot mustard is a great alternative because it has a similar spice level as creole mustard. It is hot, like stone-ground mustard, but with more flavor. Hot mustard brings out the natural tang of mustard seeds.
Chinese, American, English, or German hot mustard are available options in stores. Though a little hotter than creole, it makes a better option for spreads, sandwich sauces, and pizza dips.
7. Beer Mustard
In most mustard recipes, you use vinegar. However, in beer mustard, beer takes the place of vinegar to create more complex and rich flavors. Certainly, beer mustard is less acidic than creole mustard.
However, it has a higher level of hotness than most mustards. It is also much spicier than creole mustard, making it a better alternative if you want an extra kick.
Note that the spiciness and hotness might be more than you prefer. Ensure you add it in small amounts to get a perfect balance.
How to make your own creole mustard
Creole mustard needs spicy, hot, and sweet components to get the perfect balance of flavors. The good thing with making your own is that you can play around with ingredients to bring out your desired flavor.
Dijon mustard
Worcestershire sauce or horseradish
Tabasco or hot sauce
Garlic powder
paprika
Sugar, molasses, or honey
Semi-ground brown and black mustard seeds
White wine vinegar
Onion powder
Black pepper
Dried oregano
Dried basil
Salt
Mix all the ingredients together, put them in a container and cover tightly then store in the fridge overnight for the flavors to blend in well before you start using it.
Homemade creole mustard will remain fresh in the refrigerator for up to 3-4 weeks. If you notice that the ingredients are starting to separate and it emits an off smell, discard it immediately as it is a sign of spoilage.
Is GREY Poupon Creole mustard?
No. GREY Poupon mustard is a brand of dijon mustard which is commonly preferred to other brands. GREY Poupon is an excellent condiment for dressings and marinades and adds a nice touch on a charcuterie board or plate.
It complements sandwiches and cold meats by adding a kick of flavor, just like creole mustard. The mustard has a perfect balance of sweetness, spiciness, and hotness.
GREY Poupon mustard gained popularity in the United States around the late 1970s and 1980s. At that time, Americans' taste preferences broadened to accommodate flavors different from basic American yellow mustards. Apart from its amazing taste, GREY Poupon has an association with wealth.
References