When the harvest is in plenty and the grocery stores are overflowing, it's time to store some food for later use. Dehydration is just one of the best ways to store food for long term use.
That's why we have tried and reviewed lots of dehydrators to determine the best food dehydrator for home use.
7 Best Food Dehydrators – Reviews and Features
After using quite a number of dehydrators, the machines we've reviewed below made the cut. So, here are the top 7 dehydrators for home use:
---
1. Nesco FD-1040 Gardenmaster Food Dehydrator [TOP CHOICE]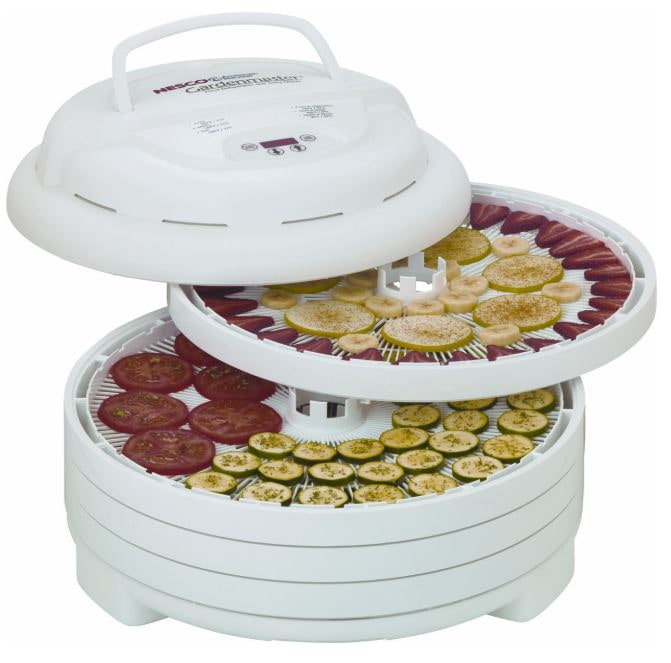 It has an adjustable thermostat
Has an automatic, digital shut-off timer
Powerful 1000-Watt heater for faster drying
Expandable tray system
Great temperature range (90° F– 160° F)
4 square feet total of drying area.
---
This dehydrator has a horizontal air-flow system, but the Converga – Flow technology gives it an edge. It prevents water from dripping onto the heater below.
The powerful heater and fan work in tandem to produce excellent drying quality. You'll be confident drying different kinds of food in the Nesco FD-1040 Gardenmaster Food Dehydrator including:
Apples (6 hours)
Bananas (8 hours)
Jerky (4-5 hours)
Fruit leather rolls (3-6 hours)
The dehydrator is fast and is useful for dehydrating meats, vegetables, herbs, fruits, etc in just a couple of hours.
The adjustable thermostat, as well as the 48-hour timer, mean that you won't have to babysit this machine as it does its thing.
What's more – the design is great (cylindrical), and the price range is much of a steal for the features loaded in this dehydrator.
What We Didn't Like
While this unit is very impressive, earning a top choice from all those who used it in our team, it comes with a few disadvantages.
Here are a few things we didn't like about the Nesco FD-1040 Gardenmaster Food Dehydrator:
Few trays: Unlike many other models we reviewed, this model comes with just 4 trays. They may be enough, but when you'll need to dehydrate a lot of food, you may need to chuck some more bucks to get a few extra trays for the job.
A little noisy: Well, not the too-noisy type, but there's some noise this dehydrator produces.
It is hard to get a good food dehydrator on the market that is completely silent, but for a product that ticks so many good boxes on our review criteria, you'd expect it to be the most silent unit. No, it isn't. Sorry.
However, it packs a punch in terms of great features and that's why I would recommend it all day, any day.
---
2. Excalibur 2400 Electric Food Dehydrator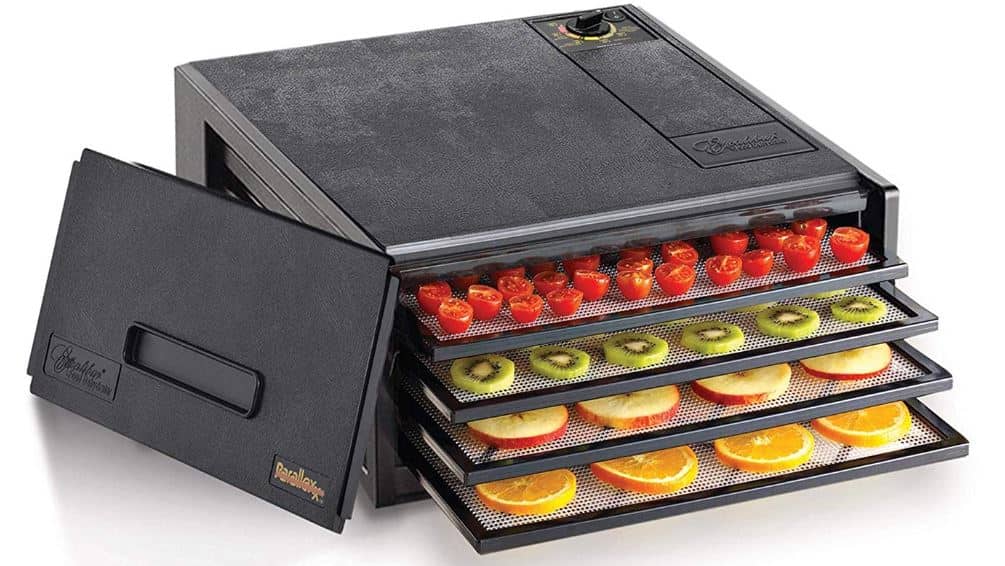 Has easy-to-clean polyscreen trays
Accurate temperature control
Adjustable thermostat
Fast and efficient drying for all types of food
It has a 4-inch fan with horizontal air flow
95 to 165 temperature range
Has a guide for dehydrating different foods.
---
This model scored highly on our review criteria for the quality of drying job it does for different types of food. It is a highly efficient model, being able to even dehydrate zucchini in just under 8 hours.
There are 2 different sizes to choose from here: the 4-tray model and the 9-tray model. I liked the size of the 4-tray model especially for its small size, which is great for most folks with small kitchens.
You can, however, choose the 9-tray model if you have enough room and also if you have a lot of food dehydration tasks to do right from your garden.
The horizontal air flow system also does a great job in terms of drying food evenly. The fan and the heating element are located at the back, with the fan being big enough to blow air and distribute it evenly along the stacked food trays.
We all get confidence in products that manufacturers can stand by. This Excalibur model comes with an impressive 5 years warranty, meaning you can expect to get the most lifespan out of it before it gets damaged.
The horizontal air-flow is great because it always produces consistent drying quality on all trays.
We also found the tray size to be sufficient for most food dehydration jobs. At 3.36 square feet of drying area, the 4-tray Excalibur electric food dehydrator may not pip our top model but it provides just enough room for most jobs.
The one thing we didn't like is the lack of an in-built timer. Yes, it goes a long way in making your work easier, but it is not a deal-breaker. For most of us, a plug-in timer does the job just fine.
---
3. Hamilton Beach 32100A Digital Food Dehydrator [BEST DIGITAL]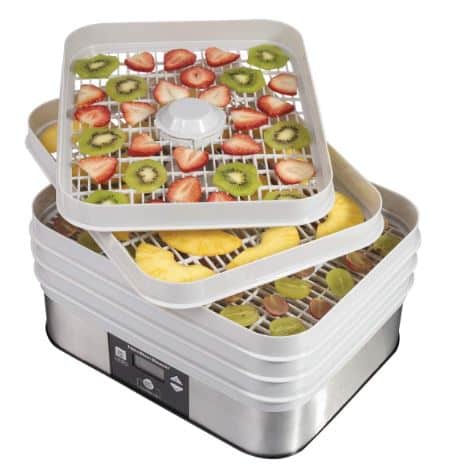 Simplified digital controls
Clear lids for easy checking of the dehydration progress.
48-hour timer
Auto shut-off thermostat control
100-160 °F temperature range on a powerful 500-watt motor.
Includes fine-mesh sheets for small herbs
Solid sheet for fruit rolls and bigger foods
5 stackable trays provided.
---
For a food dehydrator that's small and considered entry-level, the Hamilton Beach 32100A Digital Food Dehydrator packs some great features that are definitely a bargain for the price.
With 5 BPA- free stackable trays, you get plenty of room for the dehydration needs most households will have. But space is not all you need, the air flow mechanism is bottom-up, meaning the motor and the fun are located at the base of the dehydrator.
From our reviews, this is usually not a very good thing, but this digital dehydrator makes up for it with continuous air flow to produce evenly-dried foodstuff.
It is a fully-digital appliance so most of the controls will be easy to set. The timer is limited to 48 hours only – not the longest since we have a model on this list with a 72-hour timer.
However, being a budget model, it punches above its own weight in terms of the quality of dehydration and the features it packs.
The design is also impressive, the size small, and the noise reduced the minimal levels. This is not one of those food dehydrators that will produce copious amounts of noise over a 48-hour period.
Overall, we included it on this list and rated it as the best cheap food dehydrator worth the money.
---
4. NESCO FD-75A, Snackmaster Pro Food Dehydrator [BEST SELLING]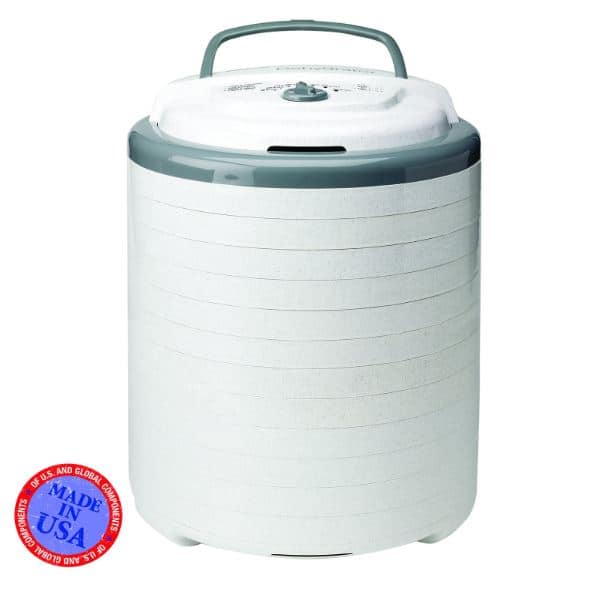 Ideal 95 °F to 160 °F temperature range.
Opaque exterior material blocks light and protects nutrition content.
Converga-Flow drying technology for superior air-flow and drying.
Powerful 600-Watt fan producing high fan-rotation.
5 trays expandable to 12.
2 fruit roll-up sheets included.
---
When it comes to the best food dehydrator brands on the market, Nesco will hardly miss on the list – and there's a reason for that. Their models are packed with great features and they deliver on quality.
The Nesco FD-75A Snackmaster Pro is a great addition competing close enough to the Hamilton Beach budget brand especially in the price quarters.
The powerful 600-watt motor can dry been in hours instead of days, thanks to the adjustable thermostat as well as the patented Converga-Flow air system that "forces air down the exterior pressurized chamber (not through the trays). The hot air is forced horizontally across each individual tray, converging on the core for fast, even and nutritious drying."
This way, there's no need to rotate the trays, which is a great feature that overcomes the biggest problem vertical air-flow food dehydrators have.
Enough screens are provided as accessories – for fruit roll, deer and beef jerky, herbs, fruits, and vegetables. The model comes with 5 trays though and the expansion ones can be purchased separately.
While we loved dehydrating lots of foodstuff with this feature-packed Nesco budget food dehydrator, we certainly couldn't help but notice that it does not have a timer.
The noise level is also noticeable. We placed it between two of our testers who were having a conversation and it did distract their hearing.
However, that's a worthy sacrifice for the price, the features, and the technology built into the NESCO FD-75A, Snackmaster Pro Food Dehydrator.
---
5. Cuisinart DHR-20 Food Dehydrator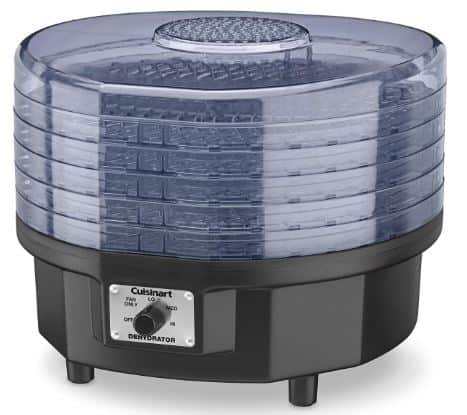 Compact enough even for small kitchens (14x12x10.5 inches)
Adjustable thermostat
Temperature range: 110 °F to 175 °F with fan-only option
5 stackable trays – expandable to 9 trays
Easy-to-clean components
Fruit roll sheets provided
---
Cuisinart models come in as one of the best food dehydrators for a number of factors, price, and versatility being some of the important ones.
Not only does it efficiently dry meats, vegetables, and fruit rolls but it also makes for a good tool for making yogurt and even treats for your dog.
The fan is powerful enough, being powered by a 620-watt motor. With this, you can expect a consistent and even drying quality.
It, however, may not be the very best in terms of even drying of food since Cuisinart utilizes the vertical air-flow system in the DHR-20 model. We tested with a few banana chops and the ones on the upper trays took a little more time to dry compared to those on the base trays.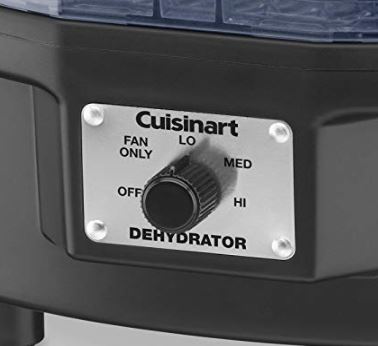 However, I found their adjustable temperature control especially with the fan only setting to be the best for slow-drying herbs. It almost works as if you're air-drying your herbs – only at a faster rate than the actual air-drying.
This option produced the best quality of dried cilantro herbs without losing their texture and flavor.
I would recommend this to be the mid-range dehydrator especially for people who want to do just a few dehydration jobs for fruits, herbs, a little beef or deer jerky, etc.
The top tray is wider than the rest of them, so this is where you gain more space for most of your meats. However, if you have taller foods to dehydrate, you'll struggle to fit them in the machine.
This is because all the trays are interlocking, meaning you cannot remove one to create more room for dehydrating slightly taller foods. This was a big disadvantage for us in our review.
---
6. COSORI Premium Food Dehydrator Machine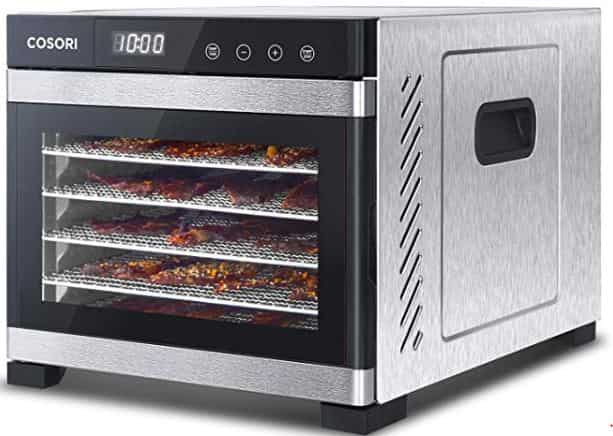 Best silent food dehydrator (less than 48dB of noise)
48 hours timer – digitally controlled
95°-165°F digital temperature control
Automatic shut-off
100% BPA-free (safe for food)
Dishwasher-safe trays
Memory function
Stainless steel design
Transparent front door
Adjustable thermostat
Mesh screen and fruit-roll sheet included.
50 free recipes
---
This Coscori brand is one of its kind. Design and food safety have been taken to another level. The stainless steel material and the food-safe glass and trays are just but a few of the things we liked about this top-rated food dehydrator.
In our review, the COSORI Premium Food Dehydrator Machine also competes for the best quiet food dehydrator, producing minimal noise for a healthy household. At only 48dB of noise, this machine is silent enough to be placed in a library and not cause any notable distractions.
It packs a number of great features, including automatic shut-off, touch-control LED display, a memory function, and food safety features. This makes it one of the best food dehydrators worth the money today.
The digital timer allows you to set dehydration times in 30-minute increments, which is nice and our reviewers liked it.
However, for me, I thought it would've been great to have finer adjustments than the 30-minute jumps.
It is great for making healthy beef jerkies, snacks, fruit leathers, dog treats, bread crumbs, and for preserving herbs, flowers, and a lot more recipes.
---
7. Gourmia GFD1650 Premium Electric Food Dehydrator Machine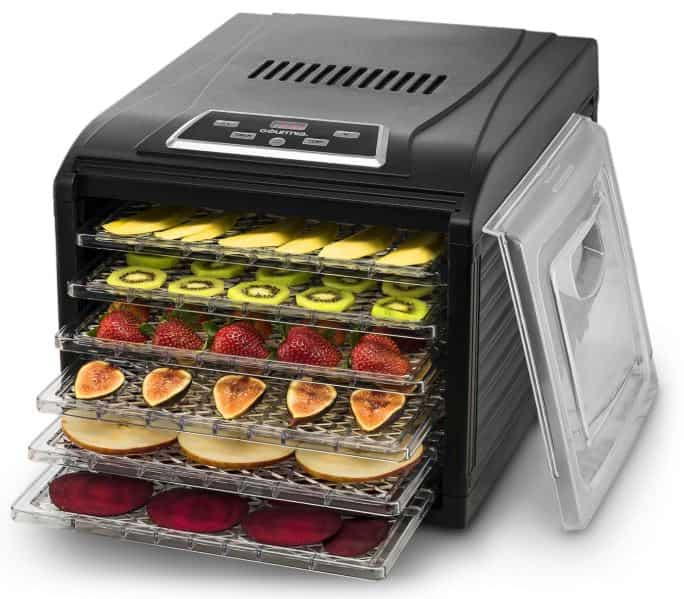 Control Center Countdown Timer LCD Panel
360-degree air circulation
No tray rotation needed.
8 different temperature presets
---
For its price range, the Gourmia GFD1650 food dehydrator packs the important features that make it worth considering as a top-rated product.
Here are a couple of features that impressed us during our testing and review of the product:
360º circulation of warm air is a much-needed feature for any dehydrator for home or commercial use. It does two amazing things for any food drying experience: (1) thorough and uniform drying and (2) it removes the need to rotate the trays manually.
8 digital, computer-controlled temperature control which makes it easy to adjust the temperature.
The trays are adjustable, so you can remove some of them to dehydrate some of the chunky foods you may have easily.
Being a food dehydrator $100, the price is just right for all the important features you'll get and that is why it features on our list as one of the best inexpensive dehydrator machines.
Review Criteria and Buying Guide
Not all food dehydrators are made the same. So, what exactly should you look for in a good food dehydrator?
In our review criteria to determine the best food dehydrators for home and commercial use, we compare products based on the features, functionality, price, effectiveness, and – of course – how much noise they produce.
That said, here's how we tested and reviewed the top 7 food dehydrators on our list above.
Air Flow Design: Vertical vs Horizontal
If you didn't know, dehydrators have either a vertical or a horizontal air flow system. They aren't the same and as such, they affect the quality of food drying and dehydration.
A vertical air flow system means the air will flow from the bottom to the top of through the trays of your dehydrator. Usually, vise versa is also true.
A horizontal air flow system means that air flows right from the back of the dehydrator to the front, along the food trays.
So, which one should you go for when selecting the best food dehydrator for jerky, fruits, meat, etc?
Home food dehydrators with vertical air flow systems are the best. Reason? They produce a much more consistent result for fruits, vegetables, herbs, meats, and even deer jerky.
However, that is not to say you should always pick the vertical air flow as the best way to dehydrate food.
Horizontal air-flow food dehydrators can be a little slow, but they produce great quality jerky. You can get the best results here especially when drying big chunks of fruit or meat slices.
Most commercial dehydrators may come with a horizontal air-flow system. For the purpose of our reviews, the vertical systems are the winner for home use.
Temperature Control
If you've ever dried fruits, then you'll know it takes a much higher temperature to dehydrate watermelon fast compared to apples.
That is where temperature control is such a key factor when choosing a good food dehydrator for your kitchen.
For the products we tested, most of them have a temperature setting ranging from 85 °F to 165 °F. This range is most likely all you'll need to dry most types of foods in your kitchen.
Digital temperature control is by far the most sought-after feature on top-rated food dehydrators. They do allow you to set the temperature to the exact degree, meaning you get precision when setting the recommended temperature for drying different types of foods.
Even though we scored the machines for digital temperature controls, setting the temperature to the exact degree isn't very necessary for most foods but that extra functionality gives you an edge in terms of features.
2-stage temperature control is key when choosing a high-quality dehydrator, but it is not an all-important feature except for people who dehydrate large amounts of food several times a week.
Dual temperature control allows you to set a higher temperature for a few minutes or hours that then switches automatically to a lower temperature for the remaining time.
This is great for foods you want to dehydrate for longer hours – let's say if you have something like deer jerky.
Hunters will find this kind of temperature control very important when choosing a dehydrator for their kitchen.
Pro tip: Fruits and vegetables are best dehydrated below 140 F. Jerky, chunks of meat and fish are best dehydrated at temperatures above 140 °F – sometimes even the highest temperature setting which may be 65 °F. For meats, you might want to start at a much higher temperature for the first 1 – 2 hours before lowering the temperature for slow drying.
Timer Setting
A food dehydrator with an intuitive thermostat timer means a much more efficient way of drying your food.
A machine that is not programmable does not give you much room to relax and leave it to do the job for you. It means you have to do the timing yourself – start the dehydrator manually and track time physically.
This often translates into anxiety since you have to set your alarm to remind you when to stop the dehydrator. If you forget, you'll dry your meat or fruits excessively and damage it.
The Homdox Food Dehydrator Machine is one of the best-rated when it comes to those that come with programmable digital timers.
It has an impressive 72-hour timer, meaning it can dry even the thickest of beef chunks you may put on the trays.
Capacity and Expandability
When you buy a home dehydrator, you may find that it has just a few trays. As you continue to like it after a few times of usage, you may just want to dry a lot more food.
That's where a great home food dehydrator should be expandable to give you plenty of drying space.
But that's not all. In our review criteria, we tested for how well the machine adjusts the drying pressure to accommodate the extra food trays added.
The Nesco FD-1040 Gardenmaster Food Dehydrator is one of the best food drying machines whose capacity can be expanded with additional trays.
You can expand some of the Nesco's dehydrators from 6 to 12 trays, which is a massive feature for anyone trying to dehydrate different kinds and amounts of food on a regular basis.
The only competition we saw for this on the criteria of expandable trays was the CHARD DD-5S 5 Tray Food Dehydrator. It comes with 5 trays but it is expandable to up to 25 trays!
Size and Design
When it comes down to capacity and size, we're talking about design. Everyone loves their kitchen looking great and stylish, so the design of that dehydrator came in as an important factor when ranking the best dehydrator for home use.
The hard questions we asked when testing and ranking these dehydrators include the following:
What is the overall size of the dehydrator?
Is the food dehydrator cylindrical, rectangular, or square?
How much square feet of drying area per tray does each machine offer?
As we analyzed these, it became obvious that even those dehydrators with the same overall size do not provide equal capacities for drying food.
For example, food dehydrators with a wider gap around the edges of their trays have a smaller capacity compared to models with end-to-end trays.
This turned out to be a very important home food dehydrator review criteria for us.
Design elegance also came in as a very important feature to consider. Food dehydrators that happen to be cylindrical appeared to be much more elegant and less mechanical when perceived in the kitchen.
However, this may be a subjective feature to consider when choosing a good food dehydrator. But just to point out, when shopping, consider where you'll place the machine in your kitchen. Is the space more suitable for a cylindrical or a rectangular model?
That's obviously for you to decide based on the features highlighted for the top 7 food dehydrators for jerky, fruits, herbs, and vegetables.
Consistency in Drying Foodstuff
Do you put vegetables, meat, fruits, and herbs in the dehydrator and then check back to turn for even drying? If you do, you need to buy a new dehydrator worth your money.
The best dehydrators are those that evenly dry food without the need for you to rearrange, turn, or rotate the trays. In fact, we preferred machines that evenly dry food without the need for much attention during the entire period.
So, how do you choose the best dehydrator for even drying of food?
From our experiments, we learned that dehydrators with a vertical airflow system are great at drying foodstuff evenly without the need to turn the trays.
Dehydrators with the motor and fan located at the base also outperformed those with these mechanical parts at the top.
It can be tedious moving trays over and over for the entire 10 to 18 hours of drying fruit to achieve a consistent drying quality. To mitigate this problem, I would recommend you choose a machine that has some sort of mechanism to turn trays. It will make your work much easier.
Another great hack would be to put thinner cuts of meats and fruits in the dehydrator to achieve a great quality of dehydration.
Our winner: Cylindrical dehydrators with the motor and fan at the base (vertical airflow) dry food much more evenly compared to even the top-rated horizontal dehydrators.
Noise Level
All dehydrators work by flowing heated air through the trays to dry food. As a consequence of this process, you'll notice most dehydrators are noisy when working.
Well, some level of noise is acceptable and here are the two reasons for that:
Faster dehydrators usually have a large fan that blows a lot of air through the food trays. This produces a great deal of noise.
Quiet food dehydrators are comparatively slow – generally speaking – because of the small fan and slow airflow mechanism.
Although you can get a good quiet dehydrator, it comes down to the motor and fan size. This became one of the important features we checked out when testing dehydrators on this list.
A quick and easy fix for this is to run the dehydrator in a place far away from your living quarters (your bedroom, kitchen, and living room).
For the noise comparison, our clear winner was the Samson Silent 6-Tray Dehydrator. This machine has a bigger fan for quick drying of food yet it is quite silent compared to similar-sized dehydrators.
Note: While a silent dehydrator may be a great thing for houses with less space, you might want to consider energy efficiency. Most quiet dehydrators work slower than the noisier counterparts, but they do so for long hours. This translates into more energy consumption.
Accessories
Does the dehydrator come with any accessories? If you're going to use the food drier for different foods, then you definitely want to look for the accessories included.
Some top food dehydrator brands are sold with accessories while others have none. You may need to buy accessories as an extra although some dehydrator brands include them without any charging extra.
Some of the important accessories you may need to look for include the following:
Mesh liners: These are also called mesh mats and you may need a variety of them to accessorize your dehydrator for different drying jobs. For instance, if you want to dehydrate herbs, you'll want to line the trays with fine mesh liners.
As the herbs dry up, they shrink and become smaller. The fine mesh mat accessory will prevent the herbs from falling through the stack of trays in the dehydrator.
Fruit leather trays: These accessories are important for people who want to try fruit roll-up recipes in a stackable machine. If you're not making fruit leather, you can still use these trays if you want to go camping or hunting for deer.
I found these accessories to be super important when choosing the best food dehydrator not just for fruit leather but for making my clean-up job much easier.
L'Equip and Excalibur dehydrators usually include removable liners for all trays as a standard. You'll definitely want to have a look at them if you're in the market buying a dehydrator.